Your Employer & Your CHL Rights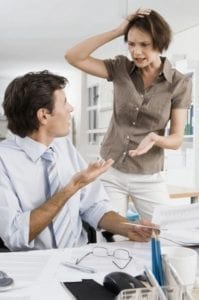 Texas Concealed Handgun License (CHL) holders enjoy some of the least restrictive carry laws in the nation.  In Texas your employer has the right to restrict your carrying of a handgun at work even though you have a CHL.  It has been that way since the inception of the law in 1995.  Let's take a look at what your employer can and can't do concerning your carrying of a handgun with a CHL.  Texas Government code states:
GC §411.203. RIGHTS OF EMPLOYERS.  This subchapter does not prevent or otherwise limit the right of a public or private employer to prohibit persons who are licensed under this subchapter from carrying a concealed handgun on the premises of the business. 
Simply put your boss/company can restrict you from carrying at work.  They have even had the ability to tell a CHL holder that they can't have their handgun in their car in the company parking lot.  They don't have to do it as provided by P.C. 30.06 company policy is enough.  So, you could be forced to either violate company policy or risk not having your handgun while commuting to and from work.  That's a time that you could be vulnerable especially if you stop somewhere while commuting as many of us do.  Effective September 1, 2011 a new law went into effect commonly called the Employee Parking Lot Bill:
Labor Code
Subch. G. RESTRICTIONS ON PROHIBITING EMPLOYEE TRANSPORTATION OR STORAGE OF CERTAIN FIREARMS OR AMMUNITION
 LC §52.061. RESTRICTION ON PROHIBITING EMPLOYEE ACCESS TO OR STORAGE OF FIREARM OR AMMUNITION.  A public or private employer may not prohibit an employee who holds a license to carry a concealed handgun under Subchapter H, Chapter 411, Government Code, who otherwise lawfully possesses a firearm, or who lawfully possesses ammunition from transporting or storing a firearm or ammunition the employee is authorized by law to possess in a locked, privately owned motor vehicle in a parking lot, parking garage, or other parking area the employer provides for employees.
What this simply means is an employer can't restrict a CHL holder from having their handgun and ammunition locked and concealed in the employee's vehicle in the company provided parking area. There are a few exceptions to this law.  The below has been abbreviated for content size but the link is provided for the full text. The below employers can restrict their employees if the following applies:
 Sec. 52.062. EXCEPTIONS. (a) Section 52.061 does not:
(1) apply where the possession of a firearm or ammunition is prohibited by state or federal law; or
 (A) a vehicle owned or leased by a public or private employer
(B) a school district;
(C) an open-enrollment charter school, as defined by Section 5.001, Education Code;
(D) a private school, as defined by Section 22.081, Education Code;
(E) property owned or controlled by a person, other than the employer, that is subject to a valid, unexpired oil, gas, or other mineral lease that contains a provision prohibiting the possession of firearms on the property; or
(F) property owned or leased by a chemical manufacturer or oil and gas refiner with an air authorization under Chapter 382, Health and Safety Code, and on which the primary business conducted is the manufacture, use, storage, or transportation of hazardous, combustible, or explosive materials, (unless they provide a secure monitored parking area)                 Click here for full text
                 The labor code also states that an employer's right to restrict a CHL holder from the premises means the building or a portion of a building.  Premise for the section of the Labor Code has the definition of P.C. 46.035 which means a building of  a portion of a building the term does not include any public or private driveway, street side walk or walkway, parking lot, parking garage or other parking area.
What is the bottom line, unless your employer leases or owns the vehicle, is a public, private or charter school, it's a location prohibited by federal or state law, oil gas or mineral lease agreement or an oil/chemical manufacture that has secure parking, you're good to go!  I recommend reading the full text in the provided link concerning chemical and oil plants, it's very specific, just because a business may have or use chemicals and oil products that doesn't make it a manufacturer.
One last reminder, your employer or anyone for that matter, cannot find out if you have a CHL.  The Government Code provides that your CHL records be confidential.  Only a law enforcement agency can get your CHL information if need for official purposes. Even if they do, the law requires TDPS to inform the license holder in writing who requested the info.  Your CHL is not subject to the Open Records or Public Information laws.  Click for full text
                 Remember, carry safe, be aware and keep your powder dry!
Phil Ryan is a Licensed Texas Police Instructor and Firearms Instructor, staff police academy instructor and CHL instructor since 1995.