Level 2 Defensive Handgun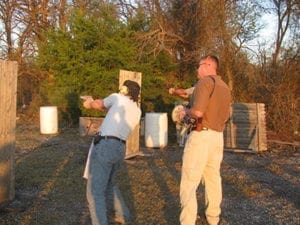 Do you understand cover and concealment? What if someone is charging you with a knife? Do you stand and draw, move and shoot or everything all at once? Shoot them in the torso and they are still coming, now what? Your gun hand is disabled can you use your weak-hand proficiently?
You will react with what you know how to do. There is no time to think when the fight is on, it must be instinctual and rooted in well tested techniques and tactics.
Increase your competence and confidence with your handgun. Learn from licensed active duty Police Firearms Instructors.
THE LEVEL II COURSE INCLUDES:
CORNER / BARRICADE SHOOTING "SLICING THE PIE"
SHOOTING ON THE MOVE FORWARD/BACKWARD
CLOSE QUARTER SHOOTING "POINT BLANK / WEAPONS RETENTION"
SPEED DRILLS / MULTIPLE TARGET ENGAGEMENT
STOP SHOTS "OVERCOME A BAD-GUY'S BODY ARMOR OR ADRENELINE"
ONE HAND AND WEAKHAND SHOOTING
COMBAT AND TACTICAL RELOADING
(T.C.C.I. Level I or other approved training is a prerequisite)
Equipment:
SEMI AUTOMATIC HANDGUN WITH A CAPACITY OF AT LEAST 7 ROUNDS 9mm CALIBER OR LARGER
500 ROUNDS OF AMMUNITION (More is better)
AT LEAST 3 MAGAZINES if 10 rounds or more / (4 if less than 10 round capacity)
HOLSTER - (Must be strong side hip holster / Inside the pant is ok if it is a hard / firm holster
MAGAZINE POUCH(S) CAPABLE OF HOLDING AT LEAST 2 MAGAZINES
EYE & HEARING PROTECTION (loaners available)
CLOTHING SUITABLE FOR WEATHER CONDITIONS
HAT AND SUNGLASSES
SUN BLOCK
CAMP CHAIR OR YARD CHAIR recommended for range.